Learn, Play and share with Friends!

Clases por ZOOM de cupo limitado para mejor interacción con los niños y la maestra.
Máximo 5 niños por clase.  ¡ASEGURA TU ESPACIO HOY!
Combina las clases y déjanos ayudarte a entretener, enseñar y velar por el estado emocional de tu niñ@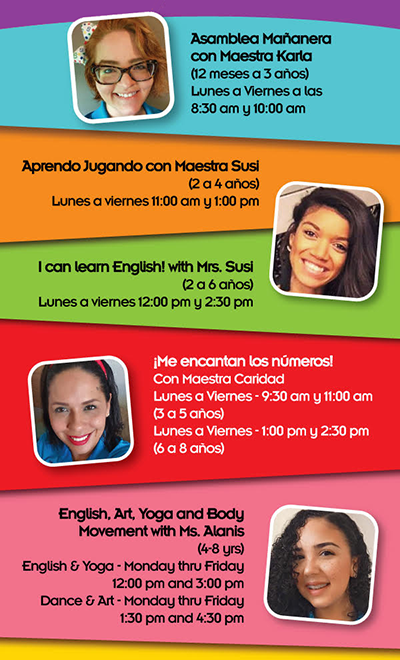 For parents that need more than a few hours, we have special rates for you!
Sometimes you will need us for a day, a week or a month. Whatever your need, we are to help!
Monday to Thursday: 7am to 10pm
Friday: 7am to 12am
Saturdays: 8am to 12am
Sundays: Open only for private activities
Open on holidays
2 to 18 months
$ 475/monthly (Up to 3 days a week)
19 to 36 months
$ 375/monthly (Up to 3 days a week)
Members  20% off all prices
2 to 18 months
$ 380/monthly (Up to 3 days a week)
19 to 36 months
$ 300/monthly (Up to 3 days a week)
NOTE:
Reservation required 48 hours prior first day
Up to 10 consecutive hours per day
Hours are not transferable
Siblings 20% discount